Exhibitions
> Past Exhibitions
Eileen Gray: Architect Designer Painter
12 October 2013  - 26 January 2014
Berenice Abbott, Portrait of Eileen Gray, Paris, 1926. © Berenice Abbott/Getty Images
Admission:
€5.00 full price, €3.00 concession (senior citizens, unwaged), under 18's and those in full time education free.
Admission free for IMMA Members plus one guest,
click here to become a IMMA Member
IMMA is delighted to present this major retrospective of the work of Eileen Gray, one of the most celebrated and influential designers and architects of the 20th-century. Designed and produced by the Centre Pompidou, Paris, in collaboration with IMMA, this exhibition is a tribute to Gray's career as a leading member of the modern design movement. The exhibition at IMMA celebrates Gray's Irish roots and presents a number of previously unseen works that offer new insights into Gray's extraordinary career.
Gray's work has often been split into two parts by critics, with decorative arts on the one hand and architectural modernism on the other. This exhibition approaches Gray's work as a whole, engaging, as she did, in drawing, painting, lacquering, interior decorating, architecture and photography. Renowned in France during the early decades of the 20th-century as a designer in lacquer furniture and interiors, Gray began to experiment with architecture in the late 1920s. The exhibition includes lacquer work, several of her carpet designs, samples from her Paris shop Jean Désert and key items of furniture from her work on the apartment of Madame Mathieu Levy and Gray's own home, Tempe à Pailla.
Significant focus is given to her landmark piece of modernist architecture the French villa E-1027, built in Roquebrune-Cap-Martin in 1926-1929, in close collaboration with Romanian architect Jean Badovici. The exhibition includes examples of furniture for E-1027, including the tubular steel designs with which Gray's name has become synonymous.
Eileen Gray (1878-1976) was born near Enniscorthy, Co Wexford and spent most of her childhood between Ireland and London. In 1902 Gray moved to Paris. She died in France at the age of 98. This extensive exhibition presents a unique opportunity for Irish audiences to experience a large group of work by one of Ireland's most important cultural figures.
The exhibition has been designed and produced by the Centre Pompidou, Paris, in collaboration with IMMA. The exhibition is curated by Cloé Pitiot, Curator, Centre Pompidou, Paris.
The Eileen Gray exhibtion is with the support of the French Embassy in Ireland www.ambafrance-ie.org 
The exhibition is presented in association with the National Museum of Ireland where an Eileen Gray exhibition is on permanent display at the Decorative Arts & History site, Collins Barracks.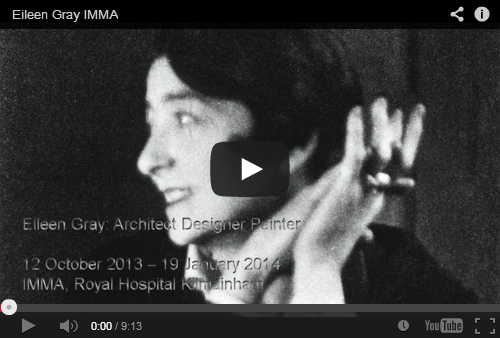 Watch video here - link opens in a new window
Eileen Gray Catalogue
A catalogue published by Centre Pompidou with text by exhibition curator Cloé Pitiot is available in the IMMA Shop. Price 12.00 euro, click here to buy online.
Talks and Lectures
Artist Response and Film | Mary-Ruth Walsh
Saturday 7 December, 1.00pm, Galleries, IMMA
In response to the Eileen Gray exhibition, Mary-Ruth Walsh (artist) leads a gallery talk on her architectural ideas concerning the interiors of Gray's E1027 house. Walsh will discuss issues concerning the public and privacy of space and how this mirrors the ocular centered camera used to photograph E1027, in contrast to the modernist single perspective envisioned by Le Corbusier.
This talk coincides with a screening of Walsh's film Strangely Familiar Shades of Gray in the lecture room from 10am-5.15pm the same day. Click here to book.

Booking is essential for all talks. For free tickets and a full programme of events please click here.
Eileen Gray and Music in the City of Light Concert Series
In response to the Eileen Gray exhibition, the Royal Irish Academy of Music is holding a series of concerts in the Great Hall at IMMA. Celebrating Gray's creative genius and that of her musical peers, the Royal Irish Academy of Music and the Irish Museum of Modern Art presents a three-concert series in the magnificent setting of the Royal Hospital Kilmainham. This series features many of Ireland's finest musicians who will explore the rich musical legacy of France's iconic capital.  
On Sunday 1 December at 3pm, the focus is on the composers of Serge Diaghilev's ground-breaking Ballets Russes.  Recognising the enduring significance of Diaghilev's early productions in the development of Gray as an architect, the second concert features an array of charming music by Diaghilev's Ballets Russes composers.   
On Sunday 19 January at 3pm, the final concert, Les Femmes, celebrates the music of the fascinating Boulanger sisters and highlights some of their musical influences including Fauré, Françaix and Astor Piazzolla.  Eileen Gray's Paris was a magnet for female creativity with such celebrated women as Coco Chanel, Charlotte Perriand, Gertrude Stein and the composers Nadia and Lili Boulanger taking their rightful place on the world's artistic stage. 
Tickets are €10, Concession €5.  Book tickets here.
Eileen Gray and Music in the City of Light is presented in association with RTÉ lyric fm.
IAF @ IMMA
The Everyday Experience
Irish Architecture Foundation
3 November - 26 January 2014
In an exciting new initiative IMMA has invited the Irish Architecture Foundation to take over a gallery space during the Eileen Gray exhibition. The IAF's activity comprises of an exhibition The Everyday Experience of national and international architects, designers, artists who reflect on the impact and practice of architecture and its effect on everyday lives. Work by Tatiana Bilbao, Tom dePaor and Peter Maybury, Pablo Bronstein, Set Collective, Celine Condorelli, John Gerrard in collaboration with A2 Architects, Alex Milton amongst others will reveal how much of our experience of designed or informal space is unconscious, immersed in the everyday and woven into life. In response to the exhibition there is a series of events, screenings, tours and workshops delivered in partnership with IMMA's Education Department.
IAF @ IMMA opening hours:
Monday and Tuesday: Closed
Wednesday: 10.30am - 5.30pm
Thursday - Saturday: 10.00am - 5.30pm
Sunday: 12noon - 5.30pm
Funded by the Arts Council
Sponsored by The Marker Hotel and Brehon Capital Partners.
Alongside the exhibition and event the IAF will present a series of talks, screenings, happenings, symposia and workshops, for full information on the exhibition and details of all events please click here 
Further details on the IAF @ IMMA visit http://www.architecturefoundation.ie/
Visitor Information
How to get there
Related Links
Read IMMA's Blog, poet
Alice Lyons tells us about her new work something permanent as part of the exhibition One foot in the Real World and the installation work by Sarah Browne Remembering Gray.


Press Release
Centre Pompidou, Paris
Sponsors:
back