Irish Museum of Modern Art | www.imma.ie
Exhibitions
> New Art at IMMA
IMMA is committed to supporting remarkable emerging artists to make exciting new work through a dynamic series of commissions, projects and group exhibitions. New Art at IMMA, proudly supported by Matheson, allows IMMA to continue to support this vital work in a strand of programming that recognises and nurtures new talents, new thinking and new forms of exhibition-making.
This major three-year partnership (2015 -2018) sees Matheson supporting approximately ten artists per year at IMMA with the commitment particularly enabling the commissioning of new work by the Museum.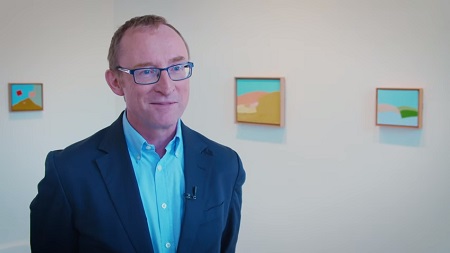 Video: Watch Tim Scanlon, Head of Corporate and Commercial at Matheson talking about their innovative sponsorship of New Art at IMMA
The first exhibition supported under this new partnership was a solo exhibition by Scottish sculptor and Turner Prize (2011) nominee Karla Black, whose exhibition featured seven new site-specific sculptures.
2017 Exhibitions
2016 Exhibitions
Exhibitions which feature Matheson-supported New Art at IMMA projects in 2016 include:
Simon Fujiwara, The Humanizer (20 May - 28 August 2016). A new work about Sir Roger Casement commissioned as part of the official Ireland 19/2016 programme.
A Fair Land (12 - 28 August 2016). An ambitious collaboration with Grizedale Arts (UK) with a large number of creative collaborators taking over the IMMA Courtyard n August.
Invited Curators Project (15 September 2016 - January 2017) with Kate Strain and Sumesh Sharma bringing innovative new forms of exhibition making into the Museum
Jaki Irvine, If the Ground Should Open (23 September 2016 - January 2017), a new work that draws from the stories of Elizabeth O'Farrell, Julia Grenan and the many women involved in the Easter Rising of 1916.
Emily Jacir, Europa. (21 October 2016 - 26 February 2017) The first survey exhibition of this significant international artist in Ireland.
Duncan Campbell, The Welfare of Tomás Ó Hallissy (25 November 2016 - 7 May 2017) A major new film work, commissioned by IMMA, from the 2014 Turner Prize Winner, and his first film to be shot in Ireland.
2015 Exhibitions

Exhibitions which feature Matheson-supported New Art at IMMA projects in 2015 included:
Irish Museum of Modern Art, Royal Hospital, Kilmainham, Dublin 8, D08 FW31, Ireland
Tel: +353-1-6129900, Email: info@imma.ie